March 10, 2015
Carnegie Mellon University: MagicCube – Securing Our Digital Transactions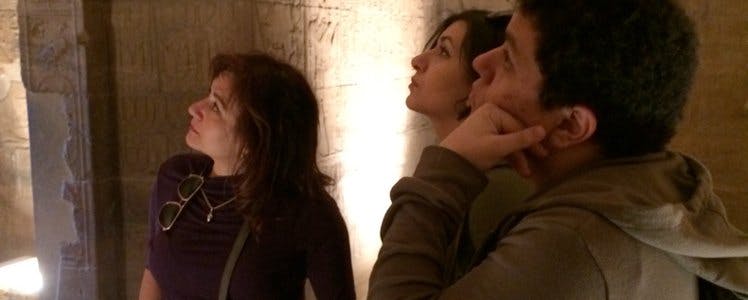 March 3, 2015
MagicCube – Securing Our Digital Transactions on Mobile Devices
Nancy Zayed (MS '10) has had a long career in the technology industry. During her 10 years with Apple, she honed her engineering skills with a laser sharp focus on usability and user experience. "Successful technology productization is best achieved by working backwards from the user experience to the technology infrastructure. Products that boast technology for technology's sake are doomed to fail the business," she offers.
Zayed realized very early that the entire world is moving toward mobile and embedded software, prompting her to join Palm in the early 2000s. Her interests focused on mobility, and then expanded, particularly in the healthcare industry and issues of security surrounding personal and private information. Zayed says, "Personal and private data vary by industry. Given that most industries have to have a mobile offering in order to remain competitive and retain its customers, there is a growing need to secure all the technologies that cut across industries. For all these devices coming out of different industries to converse, new protocols and standards have to be developed, a new vocabulary needs to be created, or at least, new extensions to an existing set needs to be in place. For IoT security to work it has to have ubiquity, transportability across devices and operating systems, as well as freedom of ownership, where freedom of ownership is a crucial part. Just think of a case where your iPhone needs to talk to a GE medical device, do a Google search, then relay a message to your brand new Jaguar which needs to double check with your wife's BMW before connecting with a certain doctor's Galaxy tablet so that you can be at the hospital in time for your grandchild's birth. More complex and unexpected scenarios will be possible."
Zayed began examining ways to create a safe-haven for this critical data. Sam Shawki, who was previously head of Visa's Global Remote Payments business unit and has had helped start up several companies before, also had a vision around protecting critical financial data. He saw the relevance in Zayed's work. So, together, they founded MagicCube, a hot Silicon Valley startup innovating a software-only technology that delivers faster, cost-effective, and rock-solid security for digital transactions on any device, independent of hardware and operating systems.
According to Zayed, "There are ample protocols in technology, however vulnerabilities continue to be leveraged for mounting attacks and data breaches. In MagicCube, we are taking on the burden of developing air tight security to allow industries to focus on innovating their business without being impeded by security threats, regardless of the software and hardware platform they support."
MagicCube currently consists of a small, yet rapidly growing team with specialized talents, along with a few consultants, and the crucial support of many backers, angel investors, and expert advisors. Zayed says, "We have been receiving incredible reception from major players in the industry. We believe that within the next several months, our product will be validated as a formidable solution to mobile devices and end-point security!" She adds that MagicCube continues to make significant progress due to the ease of integration of their product.
Zayed is also extremely interested in being an advocate of the social and economic empowerment of women in STEM careers. Zayed believes, "We all need to encourage young women to explore opportunities in STEM areas. It is the responsibility of those of us who have found success in these fields to be mentors and educators to welcome our future women in engineering."
If any alumni are interested in working together on this important cause, please email alumni-relations@sv.cmu.edu. We hope to form a group to brainstorm ideas soon!
Zayed has two children. Their daughter (Sara), graduated from the University of Chicago in 2014 with a Bachelor's degree in Biological Sciences. She is hoping to pursue a medical career and is currently working at the UCSF Cancer Clinic. Their son (Murahd), is currently studying journalism at the University of Missouri and also challenging himself by performing standup comedy wherever he can find a live audience.
(Above: Winter Break with Nancy, Sara, and Murahd listening to a guide's historical information at The Karnak Temple in Luxor, Egypt. Photo courtesy Nancy Zayed)